Power Supply Units for CCTV
SKAT — professional uninterruptible power supplies provide high quality power for CCTV (4, 8, 16, 24, 32 camcorders) of over 20 models are incorporated into the equipment under «Safe City» program throughout Russia.
Undisturbed CCTV operation when an electric main is failure, both by reason of damages, and in case of intrusion.
Over 40 models!
Price up to $1 per 3 VA!
1. PSU AC/DC series:
- Input voltage: 150—250 V, 50—60 Hz.
- Output voltage (adjustable): 11—17 VDC.
- Output power: up to 400 VA.
- Automatic switchover to stand-by battery when AC failed.
- Full battery control: 12—250 AH
Metal housing
| | | |
| --- | --- | --- |
| | | |
Rack housing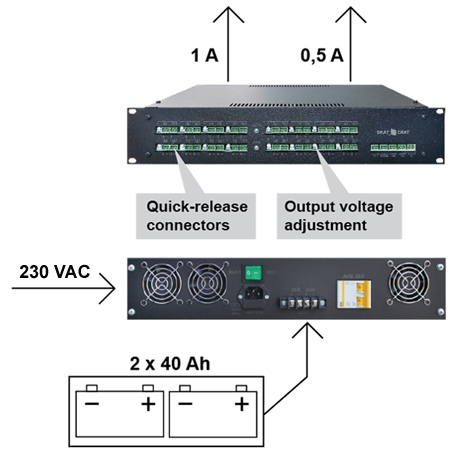 Contact to Supplier
2. PSU AC/AC series:
- Input voltage: 150—250 V, 50—60 Hz.
- Output voltage: 230V, 50—60 Hz
- Output power: up to 150 VA.
- Automatic switchover to stand-by battery when AC failed.
- Full battery control: 7—12 AH
| | | |
| --- | --- | --- |
| | | |